Pediatric Dentistry in Scarborough
We know firsthand how complicated a pediatric dentist appointment can be. When your child has a toothache or other dental issues it obviously brings a lot of discomfort for them. However, it can also be stressful for you as a parent, as you may feel anxious about the pain that your child is experiencing. Luckily, there is an easy solution for this uncomfortable situation: a quick visit to the dentist at ToothLight Dental will dispel all your worries! Taking care of your child's teeth is extremely important and our pediatric dentist is on hand to help you at every step of the process, from any painful situations that might arise to creating an oral hygiene routine for your kids, accompanying them while their adult teeth grow in, and more.
The foundation for lifelong oral health starts with your child's first tooth. It is recommended that you gently brush each tooth twice a day as they erupt. While your child's 'baby teeth' will someday fall out, keeping them healthy impacts the condition of their adult teeth.
As your child gets more teeth, make sure that you start flossing. Building a dental care routine right away helps get your child familiar and comfortable with the habits they require to have a bright and shining smile, and we will be glad to be a part of that process through the varying stages of your child's oral development.
What does a pediatric dentist do?
A pediatric dentist takes care of children's oral health. They help keep children's teeth, gums, and overall mouth healthy from infancy through the teen years. Children start having baby teeth in their first six months of age. Pediatric dentists help to ensure that they get healthy dental care from that early stage up until they reach adulthood. They offer dental services that specifically target primary teeth while providing an environment that encourages oral hygiene from an early age. We know childhood dental experiences can often affect adult perceptions of dental procedures, but here at Toothligh Dental, we specialize in providing a calm and welcoming environment to help reduce any anxiety that might be associated with dentist services. Our experienced pediatric dentist will make your child comfortable during every dental visit while prioritizing their health.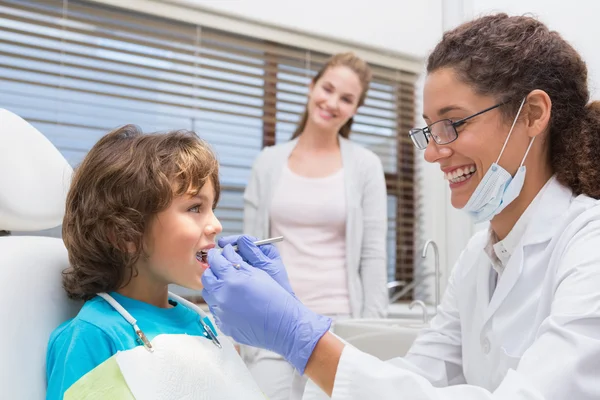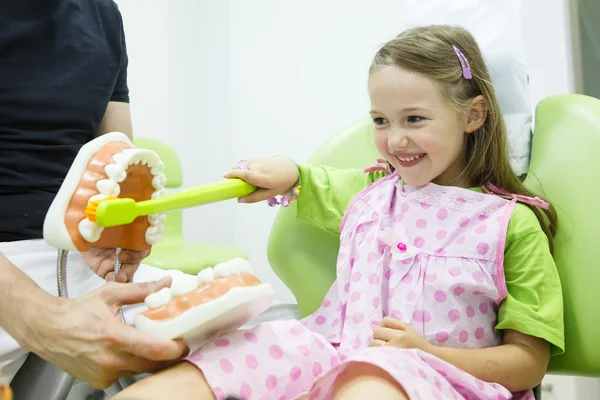 When to book your child's first pediatric dentist appointment in Scarborough
Many first-time parents feel unsure about when to set up a first dental visit for their child. Dental experts generally recommend that you wait until your child is at least a year old or until they have had their first tooth for at least six months, so there is no need to book a consultation prior to this point.
Once this waiting period has passed, we will be glad to welcome your child to our office and start their oral journey together. Early visits to a dental office usually focus on accessing the placement of the tooth and helping your child feel comfortable in the office. We can also discuss an oral hygiene routine that is easy for them and helps them maintain their overall oral health.
What can a first dental visit look like?
We will make your child feel at ease from the very first visit. The consultation usually lasts between 30 to 45 minutes. Depending on your child's age, our pediatric dentist will provide a full dental exam including your child's teeth, jaw, gums, bite, and oral tissues. Your child may also need gentle dental cleanings to remove any stains.
The pediatric dentist will ensure you know how to floss properly for your child and how to use fluoride. The main focus will be to check for the growth and development of their teeth and to ensure that you as the parent learn how to take care of your child's primary teeth. It is also important that your child is comfortable on their first visit.
As your child gets older, we adjust the care we provide to meet their changing needs. Over time, a visit may include:
X-rays
Cleaning from a dental hygienist
Fluoride treatments
Sealants for molars
Filling of cavities
Orthodontic treatment ( If needed)
Our focus is on addressing the unique oral health needs of your child. Our team also monitors the development of your child's teeth. In addition, we provide advice regarding Invisalign and other corrective dentistry procedures as your child grows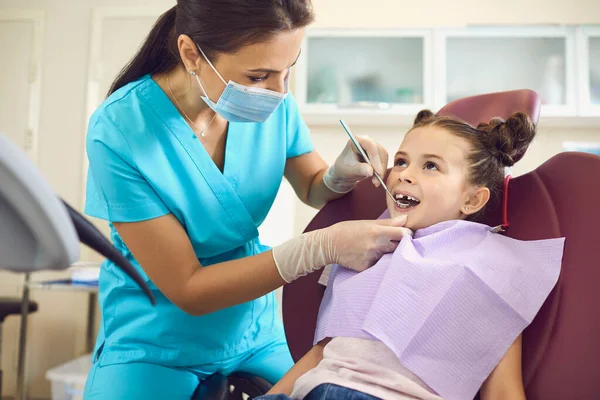 Benefits of bringing your kids to the dentist from an early age
As children get older, they may develop a fear of the dentist. This usually occurs as a result of some experiences during visits to the dentist in childhood. This is why attending to them with extra care during dental appointments is important. Similarly, bringing your kids to the dentist from an early age sets the tone for their oral health in later life. It dispels potential fear of the dentist's chair and imbibes in them good dental practices that could last a lifetime. Starting early makes it easier to care for their adult teeth later on and at Toothlight Dental your child's comfort and health will always be our point of focus.
Visit Toothlight Dental For a Bright, Happy Smile
Invest in your child's oral health and hygiene by scheduling appointments with us at ToothLight Dental. You can call us for your pediatric dentistry needs at 416-615-2111 or email us at [email protected]. You can also contact us for any dental emergencies, we will be glad to assist you in varying situations. With a touch from our dentist, your child's smile would be brighter and happier than ever before!