Take care of your smile! Contact our team at ToothLight Dental at (416) 615-2111.
Restorative dentistry in Scarborough, ON, helps you get back to the smile you want. This type of dentistry may involve adding crowns, bridges, or implants to support your dental health. We provide this service to clients throughout the Scarborough area.
Learn more about ToothLight Dental's services by contacting our team today.
Basics About Restoration Dentistry
Restorative dentistry procedures help repair damage to your smile. Our team offers several types of restorative dentistry designed to improve your oral health. We also provide cosmetic dentistry services, which focus more on improving the appearance of your teeth.
For example, we take care of teeth whitening or the placement of veneers here in Scarborough. We also provide general dental services for your family. We clean teeth, provide fluoride treatments, and fill cavities to protect your health.
From an adult who needs root canal treatment to a teething toddler, every family needs a dedicated family dentist. We want Toothlight Dental to be your go-to service provider when it comes to family dentistry services.
We are dedicated to meeting the diverse needs of your family when it comes to dental care services. We offer a comprehensive selection of family dentistry services, ranging from pediatric dentistry to dental services for senior citizens. Some of our family dentistry services include:
Types of Restorative Dentistry Procedures
Our team handles multiple forms of restorative dentistry in Scarborough, ON. In addition to repairing damaged teeth with composite fillings, we take care of:
Crowns
Crowns serve as little caps that cover the top of your tooth. We may place a crown on a chipped tooth. We use several different materials to make crowns for our patients.
Bridges
Crowns usually cover a single damaged tooth. Bridges, on the other hand, span multiple teeth. You can even cover a missing tooth if you get a bridge, as it can connect to teeth on either side of the gap. We use anchors to secure both sides of the bridge and custom-make each appliance.
Implants
Implants are like replacement teeth. They provide a permanent solution if you have missing teeth along your jaw. They attach to a pole sunk into the bone of your jaw and look like your original teeth.
You may also select implant-supported dentures if you want to replace all of your original teeth. These dentures attach to permanent implants in your jaw, providing you with increased chewing capabilities and a feeling of stability.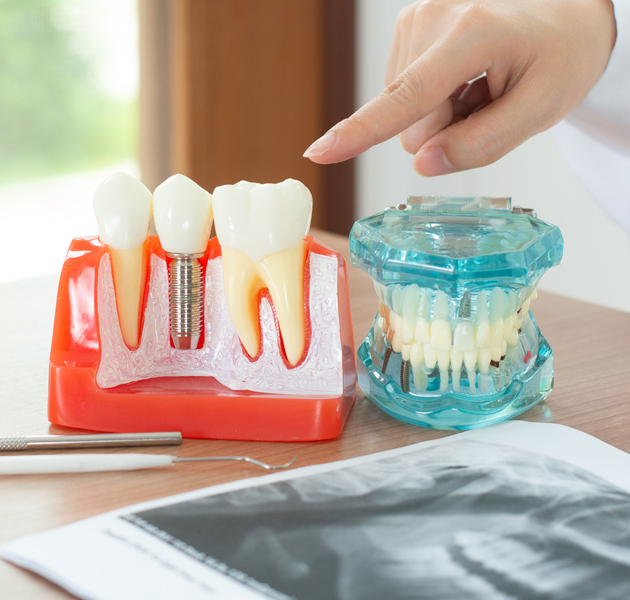 Advantages to Restorative Dentistry Procedures
Restorative dentistry plays several roles in supporting your oral health. Sometimes, dentists must remove damaged or broken teeth. This removal can leave you with spaces that make it more difficult to chew. Restorative dentistry fills these gaps.
Restorative dental procedures also help you feel more confident about your smile. Review more benefits by contacting us.
Set Up an Appointment for Scarborough Restorative Dentistry
Our team at ToothLight Dental offers comprehensive restorative dentistry in Scarborough, ON. We also take care of additional dental services in Scarborough and serve all members of your family. Reach out to us for basic cleaning, help with a cavity, or to discuss crowns by calling (416) 615-2111.